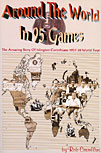 The Amazing Story of the Islington Corinthians 1937-38 World Tour
by Rob Cavallini with Colin Duncan
Dog 'n' Duck, £14.99
Reviewed by Pete Green
From WSC 267 May 2009
Fans sometimes like to think that football is popular across the world because it's somehow more universally, intrinsically appealing than rugby, or baseball, or kabaddi. It's not: it's because of people like Tom Smith.
Smith, a local councillor and rotarian, founded Islington Corinthians in 1932 to give north London a side that would excel in amateur football as Arsenal then dominated the professional game. Five years later they were spreading the word of football across the globe in an extraordinary voyage of 35,000 miles. Many other amateur and pro clubs have undertaken international tours, of course, but the ICs' trip has been overlooked in football literature until Around the World in 95 Games. The facts alone guarantee a cracking read: a squad of 19 amateurs, chosen from the unmarried players and those who could get time off work, plays nearly 100 games in eight months, taking in Europe, Egypt, south and east Asia, China, Honolulu and North America, losing a pile of money but winning 65 times, often after just two or three hours' sleep on a rickety train. It's no sanitised account: players tire of the sightseeing and grow fed up of the flower garlands; then there are the hornets' nests, leopards chasing the bus, opium dens and cocaine-spiked cigars.
Author Rob Cavallini acknowledges big gaps in the historical record – newspaper coverage of the Islington Corinthians is decidedly thin on the ground – and his text perhaps relies too heavily on the tour diary of team captain Pat Clark (itself quoted indirectly via a 1948 volume called Football All Around the World). That said, Clark's purple prose evokes the sights, sounds and smells of the tour quite gloriously, a vivid counterpoint to the more standoffish style of Cavallini ("it was hoped that a capacity crowd of 6,000 would be recorded", he writes at one point, slipping into the formal, passive-heavy tone of the stiff-tongued dignitaries surrounding the club). The author clearly knows his historical stuff, though, and is superbly thorough in setting out the wider context – of war between China and Japan, rising tension in Europe and the changing dynamics of the British Empire, all of which loom behind the tour and colour its social interactions.
As is often the way with small publishers, though, Around the World in 95 Games has not been designed and edited: it's been word-processed and spell-checked. The typography, layout and graphics are poor and the unpolished text irksome. The author refers to a book about the tour planned by a Mrs Searles, introducing her as "a journalist who accompanied the tourists" and just three pages later introducing her again as "a journalist who was intending to write a book about… the trip". I bet I'm not the only reader who'll be flummoxed by references to "the Mukdan Incident" and Switzerland's "stolen Jewish treasures", which need to be expanded upon for those of us who are less genned up than the author on world history.
Does this mar the book? Yes. Does it spoil the story? No, and it's a story that was clearly crying out to be told. This is a palpably amateur creation, but admirable and enjoyable nonetheless – much like Islington Corinthians themselves.