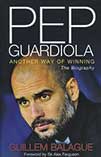 by Guillem Balague
Orion, £20
Reviewed by Tim Stannard
From WSC 313 March 2013
If Pep Guardiola thought a sabbatical year spent hiding in plain sight in New York would offer a much needed respite from football, he was being a touch naive. Over four hairline-damaging years, Guardiola was in the news for what he had won with Barcelona. Since announcing his departure from the Nou Camp in April 2012, headlines have been dominated by what Guardiola might achieve next. The news that Bayern Munich are set to be the next port of call merely quadrupled the chatter, such is the fascination with the future of the former Barça boss.
In Another Way Of Winning, Spanish football journalist Guillem Balague offers a timely indication of whether Guardiola will ever be able to repeat his La Liga success in the Bundesliga. As well as recalling a stereotypical fairytale story of a gangly Nou Camp ballboy becoming the Barcelona boss via an outstanding playing career, the biography attempts to dissect Guardiola's psyche to discover how a managerial rookie transformed Barça into one of the best club teams in the history of football.
Through testimonials from friends, colleagues, players and Guardiola himself, Balague describes a contradictory character who has both enormous confidence in his coaching abilities and philosophies on football, as well as frequent moments of self doubt and insecurity. Guardiola struggled to cope with conflict and confrontation, a necessary evil of his job, but still had the courage to jettison dressing room heavyweights such as Ronaldinho, Samuel Eto'o, Deco and Zlatan Ibrahimovic, for the simple reason that he had no connection or "feeling" 
with the players.
For an emotional personality, handling the expectations of supporters and media demanding constant success, keeping the team's tactics fresh, the endless provocation from José Mourinho and the illnesses suffered by Éric Abidal and Tito Vilanova took too much of a toll. Guardiola struggled to separate his personal life from the job, a feat that one of his mentors in the game, Alex Ferguson (who writes the introduction), has been able to achieve. The physical transformation of the former Barça boss between his first and last day at his job is startling.
While the question of why Guardiola left the best club in the world was an easy one to answer for Balague, the poser of whether his success can be repeated elsewhere is a tougher one to tackle. The answer is positive. Guardiola did have outstanding talents at his disposal but his development of Gerard Piqué, Sergio Busquets, Pedro and to some extent the transformation of Lionel Messi into a pure goalscorer are often overlooked. As are the absolute commitment and passion that Guardiola would bring to any role.
Trying to break down the inner workings of someone's psyche is a tough ask, especially one as complex as Guardiola who himself struggles to live with his conflicting characteristics. Nonetheless, Balague's attempt is an intriguing and enlightening read on a figure who is still only in his early 40s and whose next challenge is about to begin.