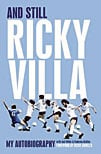 My Autobiography
by Ricky Villa with Joel Miller & Federico Ardiles
Vision Sports, £18.99
Reviewed by Huw Richards
From WSC 290 April 2011
The title, evoking the famous commentary on his greatest moment, and three pages of adverts for other Spurs-related books, make it clear that there is one reason why Ricky Villa's autobiography was commissioned. There are, though, many more reasons than one for reading it. This might easily have been a lazy exercise focussed exclusively on Spurs and treating everything as though it leads to a single glorious moment in the 1981 FA Cup final replay.
Instead, it becomes clear from the moment when the prologue shows Villa still capable at 58 of selling a dummy worthy of his playing days, we have something vastly better. This is a full account of a fulfilling, many-faceted life, of genuine interest to a far wider audience than Spurs fans.
That it is extremely well written can be credited to his two co-authors, but neither could do much without decent source material. There is little doubt about Osvaldo Ardiles's foreword assertion that "Ricky could talk for the championship of the world". However mediated, the voice which comes through is humorous, self-aware, astute and generous in spirit.
He is also evidently a good observer and listener. Not that he could do much else in his early months at Spurs. Villa knew so little of British football that he had not previously heard of Tottenham Hotspur and was amazed to discover that an early opponent was a club sharing his own surname. Speaking no English left him so baffled, frustrated and isolated that, in spite of having no religious convictions, he had weekly meetings with a priest simply in order to have conversations in Spanish.
That account of immigrant experience is particularly vivid , but the whole story is well told. He is particularly good on the off-field existence that makes up the bulk of the professional's life – not just anecdotes, but day-to-day routines and the development of team chemistry. The 1981 Spurs team is thoughtfully and intelligently analysed, and the famous goal, when it finally comes, two-thirds of the way into the book, is beautifully described. So too, typically, is the now-forgotten misery of his performance in the drawn final that made the replay necessary.
The sections on Spurs and on the 1978 World Cup would of themselves, given the quality of retelling, make a decent book. But what really lifts it are terrific evocations of his rural childhood (tellingly he used his Spurs signing-on fee to buy land, which he still farms, in the village where his family were peons), the distinctive culture and rampant instability of Argentinian football, where players often go unpaid and the people to really fear are your own fans, and of Argentinian history and politics.
This reader (not a Spurs fan) learnt a great deal and ended thinking of Villa as somebody who would be great to meet and talk to about all of these things. Not a reaction one has to most, or even many, sporting memoirs.