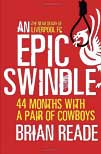 44 Months with a Pair of Cowboys
by Brian Reade
Quercus, £12.99
Reviewed by Rob Hughes
From WSC 292 June 2011
As you might surmise from the title, Brian Reade's account of Tom Hicks' and George Gillett's turbulent time at Liverpool doesn't exactly propose to be a balanced one. But this book proves to be much more than it suggests. Not that the American pair, who took over in a leveraged buyout in February 2007, escape without the bashing they deserve.
Both are shown to have worrying financial histories. And, more pressingly, the duo come across as arrogant, tactless buffoons with a woeful lack of understanding of English and European football. There's talk of bringing in new "defence men" and signing players "in the January draft", while Hicks proudly compares the Liverpool business model to his old takeover of Weetabix.

It's certainly not lacking in comedy, like Gillett's horror upon reading press reports of Steven Gerrard's imminent marriage to "long-term partner Alex". He phoned Hicks in a panic: "Our team captain is gay!"
But Mirror columnist and lifelong Kopite Reade makes a strong case for the club itself being just as culpable in Liverpool's decline. Chairman David Moores and chief executive Rick Parry are exposed as gullible and negligent in agreeing to the takeover, especially in their lack of due diligence over Hicks, brought in at the final hour when Gillett made it clear he didn't have enough financial clout on his own. As Jamie Carragher points out: "This was a decision that those at the top knew was going to affect the club for ten, 20 years and you'd have thought they really should have got it watertight." Moores, in particular, is painted as a ditherer of Olympian scope.
Above all it's a sobering true fable that shows how great institutions can so easily be undermined by their own peculiar ethics. The club's approach is often shown to be hopelessly outmoded, making big noises about moving to the next level while privately clinging to the mantras of the past. Both Graeme Souness and Gérard Houllier were "victims" of over-sentimentality, Moores loath to dismiss either long after it became clear that they were letting the club slide at an alarming rate. Sacking a manager, reasoned Moores, just wasn't The Liverpool Way.
Reade recounts the era with an air of sorry inevitability. The Americans' own relationship was fractious at best. Parry and Hicks existed in a state of perpetual contempt, while poor Rafa Benítez, long sick of swapping insults with the owners, became increasingly frustrated with all the empty promises and the kind of depressingly empty coffers that meant he only had £1.5 million in the kitty. Or, as Reade sadly points out, "a Sotirios Kyrgiakos".
If there was one good thing to emerge from all this, it was the sudden sprouting of Liverpool supporters' groups, conducting clandestine meetings in old ballrooms and plotting the overthrow of these execrable Yanks. It brought fans and club even closer together. As Reade says: "They reminded us of who we were and where we'd come from."