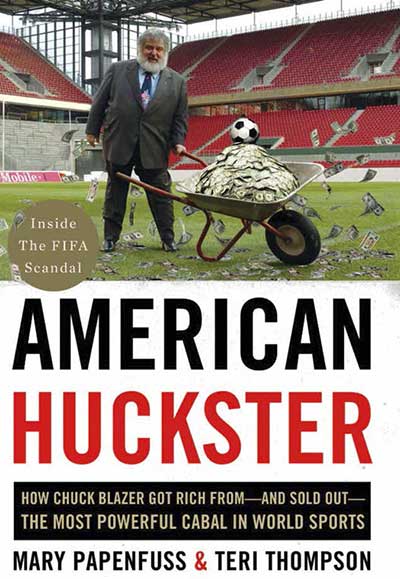 How Chuck Blazer got rich from – and sold out – the most powerful cabal in world sports
by Mary Papenfuss & Teri Thompson
HarperCollins, £20
Reviewed by Alan Tomlinson
From WSC 353 July 2016
Chuck Blazer: the Father Christmas lookalike whose weight had mushroomed to 450lbs by the time the FBI and the US Internal Revenue Service (IRS) nobbled him on the Manhattan pavement outside his Trump Tower base in November 2011. This was just under a year after FIFA's decision to award the next two World Cups to Russia and Qatar, and while a generation of FIFA powerbrokers and crooks was beginning to shatter the silence of a long-held code of omertà.
Within minutes Blazer was cutting a deal with the US authorities that "would ultimately dismantle the world's most powerful sports organisation". The authors tell the story of Blazer's rise and fall as general secretary of Concacaf in a racy and informed narrative that shows how their subject made deals for private gain, abusing his role as he also ascended to a seat on FIFA's executive committee and, as chair of marketing and media committees, exploiting the corruptible networks of FIFA and its institutional associates.
Mary Papenfuss was a contemporary of Blazer's long-term partner Mary Lynn Blanks when they were "young moms" together. Blanks approached Papenfuss at a book launch and with a memorable reunion line – "I've found myself in the soccer mafia, but if I tell you about it, they'll have to kill me" – ignited the journalist's investigative fires. With her colleague at the New York Daily News, Papenfuss turned her attention to the Blazer story. American Huckster is the product, following Papenfuss and her colleagues' important journalistic scoops covering Blazer's role as FBI information-gatherer, complementing the revelations of investigative reporter Andrew Jennings.
At the London 2012 Olympics Blazer lunched with colleagues and associates listed for him by the FBI, recording his exchanges via a small fob connected to a key chain. Under instruction to get the fob right back to his contact after each encounter, the gregarious bon vivant was now in a position where his business and Concacaf/FIFA activities "were merely a cover for his real job as clandestine operative".
Just over two years after the FBI and IRS closed in on him, Blazer pleaded guilty to ten counts covering money-laundering, racketeering, embezzlement, financial fraud and tax evasion. Papenfuss and Teri Thompson log the scale of Blazer's crookedness: $29 million (£20m) of dubious American Express charges, "commissions" totalling $20m from 1990 to 2011, £15m of which he is said to have appropriated.
Blazer flattered and wooed international politicians, ingratiatingly praising of Vladimir Putin, insensitively exploitative of a fragile Nelson Mandela. He gave parties, receptions, dinners, hailed as the rich tycoon with the global FIFA profile. He took ten per cent on just about all of Concacaf's deals and siphoned monies off to personal accounts in the Cayman Islands and elsewhere. Before the law moved in, he was an outsized Gatsby in an age of escalating greed. American Huckster tells it like it was and could easily be again if bodies such as FIFA allow hustlers such as Blazer to weave and duck in the amoral world of global sports business.