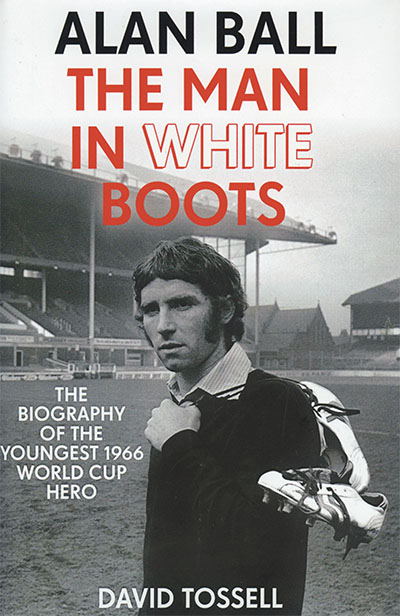 Hodder & Stoughton, £20
Reviewed by Mark O'Brien
From WSC 374, March 2018
Buy the book
Early on in this detailed and warm biography of Alan Ball, the World Cup-winner's career is described as running in reverse. After being the youngest member of Alf Ramsey's 1966 squad, Blackpool's own Benjamin Button was perhaps inevitably doomed to never again experience such a footballing high.
David Tossell does a brilliant job of detailing not only the life and varied career of Ball himself, but also the whole footballing landscape across four decades, including three World Cups, a spell in the North American Soccer League and the birth of the Premier League.
Driven to success by his fanatical father, Ball is consumed by an overwhelming desire to prove wrong everyone who dismissed his early prospects because of his small physique. He's portrayed as a complex character, admired hugely by team-mates and opponents alike for his fierce competitiveness and brilliant one- and two-touch play, particularly at Everton where he was immortalised as part of the League-title-winning midfield "Holy Trinity" alongside Howard Kendall and Colin Harvey.
However, Ball's will to win frequently transgressed into frustration with lesser-skilled colleagues and even many of his Goodison team-mates were relieved to see the back of him when he was sold to Arsenal in 1971.
One of the many great uses of contemporary sources in The Man In The White Boots is a Clement Freud piece for ITV's This Week, reporting on the build-up to a Merseyside derby. The interviewer's opening gambit to the infamously stern Harry Catterick was: "As a player, you never really made it, did you? What impact has your lack of success had on you as a manager?" Ball's own Shoot! columns also feature prominently, with more than a hint of accidental Partridge about them. Concerning the titular white boots, he wrote: "OK, I've heard some of the comments from the terraces, but if I listened to all that I'd probably never turn out in another game. Anyway, they're my own sponsored make, called Fireball. Most important is they are damn comfortable and that's what matters most of all."
Ball's own career as a manager is often seen as not in keeping with his stature as a player but, according to his son at least, that's nearly all down to a disastrous spell at Manchester City and overlooks successes elsewhere, especially at Portsmouth and then Southampton, where he built his team around the talents of the young Matt Le Tissier. Trying to replicate that with Georgi Kinkladze at Maine Road was less successful, as was his opening day motivational speech that has gone down in folklore as instantly alienating the players because of the repeated references to winning the World Cup.
In fairness, Niall Quinn claims here that he recalls the infamous address rather differently – as being positive and motivational – and perhaps those sorts of contradictions are what best sum up the Alan Ball in this book. Loved and hated in almost equal measure by team-mates, a consummate professional who was also a party animal, and a hero to Pompey and Saints fans alike.
And while his career may have run in reverse, what a career it was.