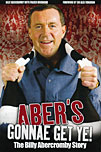 The Billy Abercromby Story
by Billy Abercromby with Fraser Kirkwood
Macdonald Media, £9.99
Reviewed by Archie MacGregor
From WSC 273 November 2009
Many would contend that if football is Scotland's national game then the favourite pastime of those playing it is most surely drinking. There's certainly a longstanding tradition of romanticising, and even celebrating, the alcohol-fuelled deeds that so many of Scotland's leading players have presented us with over the years – from an inebriate Jimmy Johnstone floating helplessly down the Firth of Clyde in a rowing boat on the eve of the 1974 World Cup to the recent escapades of Allan McGregor and Barry Ferguson. Yet all this larking about all too often comes at a cost. Be it a truncated career, or worse, in the tragic cases of the likes of Jim Baxter, a truncated life.
Billy Abercromby will never go down as one of the all-time greats of the Scottish game, but he did become the midfield fulcrum for St Mirren in an era that was to be the most successful in the Paisley club's history. This culminated in him captaining them to victory over Dundee United in the 1987 Scottish Cup final. An unashamed hard man who would often brazenly take out opponents who happened to make a nuisance of themselves in his proximity – hence the terrace chant from supporters that gave rise to the title of this book – Abercromby was also a seriously hard drinker. A confirmed alcoholic in fact, and one whom medical experts reckoned was just one more binge away from joining Baxter as another grim drink-related statistic.
That he is still around is due to some remarkably gritty determination that matches anything he displayed while playing for the Saints. But this is no airbrushed tale of redemption undertaken in the leafy surrounds of some suburban rehab centre. Instead Abercromby and his co-writer Fraser Kirkwood take you all the way down to the pits of despair as his frequent benders during his playing days blurred into outright dependency on the bottle. By the time he was being rushed to hospital at death's door in 2007, he was having repeated seizures, drinking three bottles of sherry a day and sleeping rough in a bird hide by the Forth & Clyde canal. It goes without saying that the rest of his personal life was a disaster – a failed marriage, drink-driving offences, fraudulently claiming invalidity benefit and throwing away prized mementos including his Cup winner's medal.
It's sufficiently harrowing for the reader to feel a sense of ordeal and as Abercromby acknowledges himself the battle to stay dry will go on for the rest of his life. The fact that he's gone for two years without touching a drink and managed achieve a reconciliation with his daughters, many of his former team-mates and the St Mirren supporters, who broke into a noisy rendition of "Aber's Gonnae Get Ye" as he took to the field for the club's final game at their Love Street stadium earlier this year, does bring matters to a close on an uplifting note. No run of the mill biography then but one which is a persuasive testimony against those who lament efforts to break the game's drinking culture.