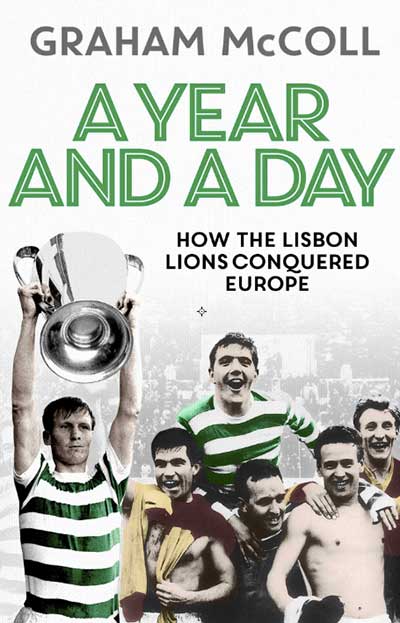 Simon & Schuster, £20
Reviewed by Jonathan O'Brien
From WSC 367, September 2017
Buy the book
It's hardly breaking news that football is now in a different solar system from where it was half a century ago. Nonetheless, the recent 50th anniversary of Celtic winning the European Cup in Lisbon rammed the point home with some force. The commemorations were a sea of images that felt like relics of a different sport, from the surreal post-match photos of a sweating, smiling Billy McNeill standing in the street holding the trophy while flanked by two Portuguese policemen, to the miniature forest of trees that ringed the homely little Estádio Nacional. Even the flickery match footage seems to belong to the early 1950s, not the late 1960s.
This is something of a can't-miss job for Graham McColl, the author of several previous enjoyable books about Celtic. The saga of the Lisbon Lions is one of the headiest, most romantic stories in all of sport. And yet it's also one that's been told a thousand times. A Year And A Day, based on interviews with nine of the 1967 team, has to turn up some new stuff to succeed, and it does.
At one point, for example, McColl introduces us to Dunky MacKay. An overlapping right-back who overlapped that little bit too much for the liking of Jock Stein's predecessor Jimmy McGrory, MacKay was sold to Third Lanark in late 1964, four months before Stein arrived; had he hung on, he and not Jim Craig would probably have lined up against Internazionale in Lisbon. Another terrific vignette is an interview with an FC Zurich player who was astonished by the volume of noise at Celtic Park, and got his explanation when, afterwards, he saw the stadium's deserted terracing covered in empty whisky bottles. The account of the final itself – spread out over seven tense, short chapters – is microscopic and exciting.
What comes through again and again is how complete Stein's control of team affairs was, something that just can't happen in today's world of Ed Woodwards and Michael Emenalos. A ceaseless experimenter (he once arranged a 14-a-side training game where two balls were used at once) and a brutal disciplinarian (he humiliated players for being 60 seconds late), Stein was a one-man earthquake. "Before Stein, you didn't really take a lot of notice of managers," says John Hughes here. "You wouldn't have known who the manager of Aberdeen was, for example."
It's a pity that there's no introduction of any kind to set the scene, not even a short preface: instead, we dive straight into the minutiae of Celtic's May/June 1966 tour of the US. Starting off by dwelling at length on a trivial part of the story feels wrong, too. Later, on several occasions McColl tells a good yarn but then doesn't name names. These things hardly ruin an otherwise good book, but they do weaken it.
Even as the legend grows in lustre, the Lions' earthly presence is starting to fade. Four of the team that beat Inter are gone, as is substitute Joe McBride; the inspirational McNeill, struggling with dementia, can no longer speak. And in a Champions League where the Spanish mega-clubs casually play pass-the-parcel with the trophy, Celtic have long since become just another plucky little also-ran, happy to hold one of the big boys to a draw at home on a good night. We can say with some confidence that there will never be another.