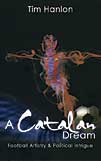 Football Artistry and Political Intrigue
by Tim Hanlon
Peakpublish, £12.99
Reviewed by Dermot Corrigan
From WSC 293 July 2011
A Catalan Dream opens in 2003 with the coming to power of new FC Barcelona president Joan Laporta, who – along with then sidekick Sandro Rosell – sets about modernising a club which had been on the slide. They appoint Frank Rijkaard as manager, negotiate new merchandising and TV deals, renovate the fabled La Masía youth academy and on-field success soon follows.
But off the field is where Tim Hanlon, a British journalist who has lived in Barcelona and covered the club for eight years, is really most interested. He provides plenty of detail on political machinations, boardroom intrigues, transfer shenanigans and personality clashes inside the club as results fluctuate from season to season. Hanlon managed very impressive access, gleaning apparently fresh quotes from administrators, coaches, players and journalists there at the time. Among the more interesting are former defender Albert Ferrer, super-agent José María Minguella, ex-coach Charly Rexach and former director Ferran Soriano, who all possibly have axes to grind – no harm in a book like this.

The story centres around the relationship between Laporta and Rosell, who are both directly quoted. Laporta was the frontman, hosting Catalan nationalist events, enjoying the media spotlight, increasing the club's debt and becoming increasingly megalomaniacal. A former Nike marketing executive, Rosell was (according to him anyway) more concerned with signing the right players and safeguarding the club's finances. The two quickly fell out and Rosell was edged aside by 2005, with Laporta going on without him to oversee the club's most successful year ever in 2009. Hanlon seems to favour Rosell, though, allowing him to say that Laporta "is like a two-sided piece of paper" and "thinks he is God". Rosell also got the last laugh – he is now club president, while Laporta's post-football political career has stalled.
Although the political struggles take up maybe less than half the book's pages, they're generally the highlight. Hanlon's potted club history is rightly sceptical of Barcelona's self-proclaimed "Més que un club" embodiment of everything good about Catalonia, pointing out that despite Franco's love for Madrid, Barcelona was La Liga's most successful club between 1940 and 1960, and that many of their fans prefer a cosmopolitan rather than purely Catalan identity. However, anyone looking for new tactical insights into the Barcelona "way" will be disappointed, while the lengthy game-by-game reprises of each season and half-page summaries of Ronaldinho's off-field exploits or Thierry Henry's complicated family life add little.
Hanlon is no master stylist – midfield terriers bite into tackles, Johan Cruyff is enigmatic and Barcelona are a club with a turbulent history – but then thankfully an ability to conjure sublime prose is not a requirement for writing about sport. The main lesson from A Catalan Dream is that football politics can be just as murky, personality-driven and ultimately damaging as national politics. The fan membership and elected president model is often suggested as a better way forward for poorly run or foreign-owned British and Irish clubs. This book suggests that is not necessarily the case.