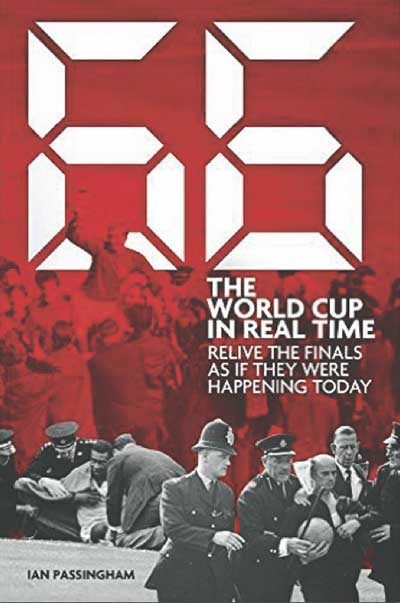 by Ian Passingham
Pitch Publishing, £14.99
Reviewed by Jon Matthias
From WSC 351 May 2016
The concept of this book is to help the reader "relive the finals as if they were happening today". Broadly speaking it works, as Ian Passingham tells the story of the 1966 World Cup in modern journalistic style. That means lots of headlines, short sentences and picking the newsworthy angle out of the factual details. There are times when anachronisms grate, such as references to "WAGs". "The Angels of the North" particularly stood out as a headline out of sync with the rest of the book, given the Angel was only erected in 1998. But minor quibbles apart, Passingham manages to make the source material fresh and interesting.
After a preamble explaining England's place in football history, the story starts for real with a precis of the team's matches in the three-year "World Cup Countdown". The full reportage commences a week before the finals and soon leads into match reports and quotes from press conferences. In true journalist style, certain key facts – such as Alf Ramsey's promise that England will win the World Cup – are repeated in any relevant story.
Two main things stand out. Firstly, the many references to the state of the game 50 years ago that now appear totally quaint. Secondly, how many things haven't changed. For example, Argentina aren't allowed extra practice at Wembley because the greyhound racing is on the night before their game against England. There's a lot of excitement over a "high tech" electronic scoreboard that has been installed at Hillsborough. Drug testing is deployed for the first time and is considered controversial. An Argentinian reporter sends a 20,000-word cable home to report on a match. The WAGs go to the Black and White Minstrel Show.
But there are things that seem timeless. Rows over refereeing decisions, play-acting, criticism of ultra-defensive football and the lack of goals, accusations of corruption in FIFA and so on. The North Korean press officer issues a propagandist declaration that his country invented football, which everyone laughs off.
There's plenty of coverage given to how unhappy the South American nations were with their failure to progress. How different would the world game have looked if they had made good on their threats and set up an alternative to FIFA? No João Havelange, presumably no Sepp Blatter. Not having substitutions really affected games – midfielder Kalman Meszoly finishes Hungary's win over Brazil with his arm in a sling – so FIFA subsequently changed the rules and replacements were allowed for Mexico 70. The English FA meanwhile learned the public had a taste for televised football and set about making sure live matches would stay off TV so attendances didn't drop.
The book concludes with a "What happened to…?" section and an appendix listing the England teams in the run up to 1966 to show how Ramsey's team evolved, both interesting additions. I doubt anyone who has read up on England's World Cup win will learn anything ground-breaking, but as a general introduction this is pretty good.