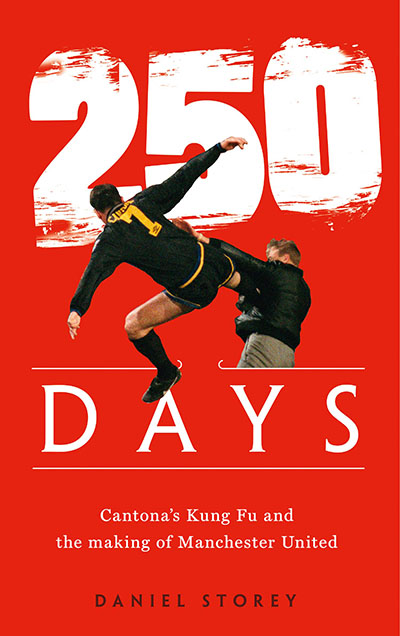 HarperCollins, £9.99
Reviewed by Jonathan O'Brien
From WSC 387, June 2019
Buy the book
There can't have been many months in the history of Manchester United more memorable than January 1995. On the 10th, quite out of the blue, Alex Ferguson sensationally broke the British transfer record to sign Andrew Cole. On the 15th, Mark Hughes, the man Cole was earmarked to replace, scored (and lamed himself in the process) against Newcastle, the team Cole had just left. On the 22nd, Eric Cantona headed a memorable late winning goal against Blackburn, the team United were pursuing at the top of the Premier League. And on the 25th, Cantona did something else.
Daniel Storey uses that infamous explosion at Selhurst Park as the starting point for his analysis of the titular eight months that changed the course of Ferguson's and United's intertwined destinies. But while the idea is a good one and the book is cleanly written, the decision of publisher HarperCollins to restrict 250 Days to a very brief sub-150 pages makes it feel unfinished and unsatisfying. Cantona's kick was an inadvertent starting point for something big, but that something goes unexplored: the book ends with his calmly slotted penalty against Liverpool on the day his ban expired.
We start, of course, with a blow-by-blow (in both senses) account of how Cantona fired himself at Matthew Simmons at Selhurst Park. Storey argues fairly convincingly that Cantona was simply an adrenalin junkie who got off on high-stakes situations, rather than the tortured French poet so many of his fans were keen to regard him as. Adding weight to this theory is the largely unreported fact that in the days after United banned him for the remainder of 1994-95, he tried to kick ITN reporter Terry Lloyd, who'd tracked him down to a hotel in Guadeloupe. It's revealed, too, that the babbling about "seagulls [who] follow the trawler" was in fact the meticulously planned result of a brainstorming session between Cantona, United director Maurice Watkins and their head of security Ned Kelly.
Ferguson, as we know, ultimately convinced Cantona to stay over dinner in Milan, despite the FA lengthening his ban by four months. But three of United's leading lights – Paul Ince, Andrei Kanchelskis and Hughes – had since left the club for varying reasons. On the opening day of 1995-96, Aston Villa beat a very young United team less comprehensively than the 3-1 scoreline suggests, leading to Alan Hansen's infamous ejaculation later that evening that "You can't win anything with kids". Storey dwells on the quote at length, but doesn't mention that this was just three months after Louis van Gaal had won the Champions League with an Ajax team comprised mainly of adolescents.
From there, it's into the big build-up to Cantona's comeback against Liverpool on October 1. As ever, Storey's research is laudably thorough, right down to noting the details of the Eric-centric tons of merchandising tat which littered Sir Matt Busby Way on the day of the game. But that's where it ends, pretty much, save for a couple of rushed-looking pages on the remainder of the campaign. And that's what makes 250 Days such a frustratingly interrupted read. You want more. You want the story of how United kicked on from October, how they grimly hunted Newcastle down, how Cantona drove them on to their tenth league title through sheer force of will with all those second-half winners. But it never comes.