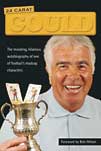 by Bobby Gould and David Instone
Thomas Publications, £15.99
Reviewed by Ed Wilson
From WSC 294 August 2011
As a goalkeeper-clattering centre-forward, Bobby Gould played for nine clubs across the Football League, from Arsenal to Hereford United. His managerial career included an FA Cup win with Wimbledon, relegation with West Brom and a failed tilt at World Cup qualification with Wales. It's probably safe to assume, then, that he didn't struggle for raw material when putting this autobiography together.
Indeed, one of the major problems with this book is that all this material appears to have been included; noteworthy episodes of Gould's 40-odd years in the game vie for space with information about which even his friends and family would struggle to be curious. Plenty of people, for example, will be interested to know that he made a habit of fighting players who disagreed with his managerial decisions. But how many of us can honestly say we needed to learn where and when he watched his first live test match? (New Zealand, 2008, for the record.)
The process of exhaustively remembering his life doesn't seem to have encouraged Gould to reflect on it much, meaning that although the book is packed with incident, it's also strangely shallow. Episodes of his career that must have prompted bouts of self-examination are afforded the same amount of space as some of the Crazy Gang's more elaborate pranks. One such episode – the accusation of racism he faced while manager of Wales – is dismissed in four paragraphs. The fact that one of those paragraphs uses the epithet "coloured" to describe Terry Phelan probably tells us all we need to know about the incident itself.
This lack of analysis may partly be explained by 24-Carat Gould's other major failing, namely the author's desperation to inform us that he is a raconteur and entertainer, "one of football's madcap characters". For proof, look no further than the cover of the book, which features a grinning Gould – polo-shirted and tanned, as if fresh from a golfing holiday with Tom O'Connor – holding a replica of the FA Cup, topped with two jokers from a pack of cards.
As a humorist, Gould values quantity over quality, and his quest to prove himself football's answer to Peter Ustinov leads to a barrage of quips and gags, all hammered home with exclamation marks. The comedy leans heavily on the tie-snipping larks that footballers invariably describe as "good banter", though that's not to say that there aren't amusing moments. The lyrical meditation on the respect and love he has for Sam Hammam, which ends with the bitter rebuke that "he could have looked after me better financially", is laugh-out-loud funny.
There are some genuinely good anecdotes – Gould ruins a supposedly clandestine meeting by arriving in a Bristol Rovers car with his name on the side – but again, the feeling is that not enough of the unremarkable ones have been excluded. And this is the problem with the book as a whole; the reader is hurried from one incident to the next, with no opportunity to separate what matters from what doesn't. In the end, the sheer weight of trivia ends up overwhelming whatever story Gould has to tell.