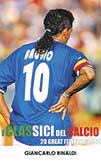 by Giancarlo Rinaldi
Kindle via Amazon, £1.53
Reviewed by Matthew Barker
From WSC 318 August 2013
Giancarlo Rinaldi has been writing about Italian football since the late 1980s, initially in the Rigore! fanzine. This ebook is akin to a best-of; a simple enough framework, compiling reports on 20 games that the author has previously written about in various formats, the earliest dating back to 1961 (though not as an eye-witness) and the most recent from 2005, with an accent on the 1980s and 1990s. Some have a particular relevance for the outcome of a championship, though others have been chosen on more personal grounds.
Rinaldi has a nice and breezy, economic style, which keeps things moving along and works best when he's explaining the contexts of club rivalries, or the back stories of an individual player or coach at a crucial moment in their careers. For anyone looking for a decent primer on the history of post-war Italian football, there's much to enjoy here.
However, despite its slight size (less than 100 pages) this is definitely a book best dipped into. Those match reports soon start to blur a little and you could miss out on some nice details, especially when it comes to the quotes, the majority sourced from contemporary press cuttings. Inter's Sandro Mazzola remembering when, as an 18-year-old, a club car was sent around to pick him up after he sat his accountancy exams and drive him straight to the stadium for a game against Juventus; the claims that jars of "Berlsuconi's Tears" were sold on the streets of Naples after Napoli won the 1990 scudetto; Claudio Ranieri snapping at journalists after his Fiorentina team were on the receiving end of an 8-2 tonking from Zdenek Zeman's Lazio.
If I have any gripes, and with a £1.53 asking price it seems pretty churlish to have any at all, it would be the lack of match summaries – a couple of lines of which could sit underneath the chapter headings. There's no mention of the final score, let alone other stats (scorers, times, actual dates as opposed to simply the month, attendance figures), which can make things confusing when trying to follow the narrative of a report, especially if you are just dipping in. Some images would be nice too, though I appreciate we're still in the relatively early stages of ebook technology. Hopefully, along with a sympathetic editing job, we can get to enjoy a more fully rounded reading experience one fine day when a print edition appears.