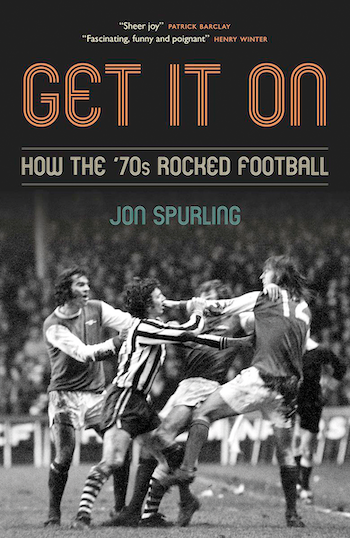 Get It On: How The 70s Rocked Football
by Jon Spurling
Four years after the World Cup win of 1966 and a decade after the abolition of the maximum wage, a new era dawned in English football. As the 1970s took hold, a new generation of larger-than-life players and managers came to dominate the sport, appearing on television sets in vivid technicolour for the first time.
Set against a backdrop of three-day weeks, strikes, political unrest, freezing winters and glam rock, Get It On tells the intriguing inside story of how commercialism, innovation, racism and hooliganism rocked the sport in the 1970s. Charting the emergence of Brian Clough, Bob Paisley and Kevin Keegan, and the fall of George Best, Alf Ramsey and Don Revie, this fascinating book traces the highs and lows of an evolutionary and revolutionary era.
WSC regular Jon Spurling has been interviewing footballers for 25 years, including legends George Best and Jack Charlton, European Cup-winning captains Emlyn Hughes and John McGovern, and pioneering black footballers Cyrille Regis and Brendon Batson. Get It On presents these heroes of the era in their unvarnished and uncompromising glory and explores how the 1970s was the most groundbreaking decade in English football history.
Subscribers save £2
390 pages, hardback